GIANT SALVINIA BARRIER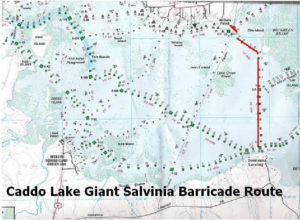 In 2008, CLI supported the efforts of the Greater Caddo Lake Association, Cypress Valley Navigation District and others to construct an experimental barrier and implement a collection program at Caddo Lake. The barrier was constructed for 2 miles across the lake by volunteers who then collected the giant salvinia that was trapped by the barrier daily. During a storm in 2009, the barrier was damaged and, by then, giant salvinia had begun to be widespread in the lake. It was, therefore, removed rather than repaired.
MORE INFORMATION
Additional information on Caddo Lake and its watershed can be found on CLI's data website – www.caddolakedata.us.
HOW CAN YOU HELP NATURE LOCALLY?  Dont's: DO NOT SPREAD INVASIVE SPECIES: CLEAN-DRAIN-DRY YOUR BOAT! Look for invasive stowaways in your prop, anchor, dock lines, trailer, hull, rollers, bunks, axle, live wells, bilge, motor, prop.  Empty, drain any debris at...
read more