GREAT RAFT INVASIVES PROGRAM (GRIP)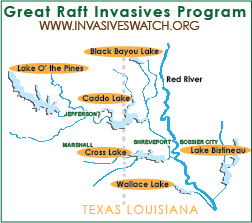 With a grant from the National Fish and Wildlife Foundation in 2012, CLI began the Great Raft Invasives Program, which works with individuals, organizations and government entities at lakes in the region to expand work on giant salvinia and other invasive aquatic species beyond Caddo Lake.  A regional approach is needed since invasive species can move back and forth between lakes on boats and trailers.  Most of the area's lakes were originally formed over two centuries ago by the giant logjam on the Red River known as the "Great Raft."
The public can see the work of the project on a website – www.invasiveswatch.org – developed by the National Wetlands Research Center in Lafayette, Louisiana. The website has a unique mapping feature for tracking chemical and biological treatments on the lakes. The site also allows "Weed Wardens" to post their observations at the site.
MORE INFORMATION
Additional information on Caddo Lake and its watershed can be found on CLI's data website – www.caddolakedata.us.
HOW CAN YOU HELP NATURE LOCALLY?  Dont's: DO NOT SPREAD INVASIVE SPECIES: CLEAN-DRAIN-DRY YOUR BOAT! Look for invasive stowaways in your prop, anchor, dock lines, trailer, hull, rollers, bunks, axle, live wells, bilge, motor, prop.  Empty, drain any debris at...
read more