MECHANICAL HARVESTER PILOT PROGRAM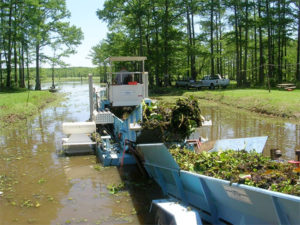 In 2009, CLI conducted a ten-day trial of mechanical harvesting to remove giant salvinia and water hyacinth from Caddo Lake. The work was done in partnership with a local Caddo Lake landowner, who provided the harvester.  The planning, implementation and reporting for the project were also supported by funding from the National Fish and Wildlife Foundation and the City of Marshall, Texas.  The report on the harvester trial can be seen here.
MORE INFORMATION
Additional information on Caddo Lake and its watershed can be found on CLI's data website – www.caddolakedata.us.
HOW CAN YOU HELP NATURE LOCALLY?  Dont's: DO NOT SPREAD INVASIVE SPECIES: CLEAN-DRAIN-DRY YOUR BOAT! Look for invasive stowaways in your prop, anchor, dock lines, trailer, hull, rollers, bunks, axle, live wells, bilge, motor, prop.  Empty, drain any debris at...
read more