POCKET GUIDE TO INVASIVE SPECIES OF THE LAKES OF THE GREAT RAFT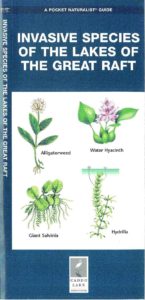 CLI's 12-panel pocket guide to invasive species at Caddo Lake and other lakes in the region is designed to provide an introduction to both invasive species and look alike native species of northeast Texas and northwest Louisiana through illustrations and short descriptions. The guide is available for a contribution of $50 which can be made online or mailed to CLI.
MORE INFORMATION
Additional information on Caddo Lake and its watershed can be found on CLI's data website – www.caddolakedata.us.
August 14, 2018 - 3,000 paddlefish were recently released into Caddo Lake (1,500 at the State Park and 1,500 at the National Wildlife Refuge.) This is the 2nd in a series of 3 releases this month, part of the first official re-stocking of these prehistoric fish. These...
read more