POCKET GUIDE TO INVASIVE SPECIES OF THE LAKES OF THE GREAT RAFT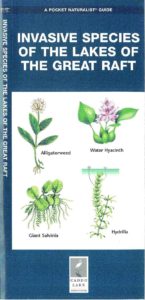 CLI's 12-panel pocket guide to invasive species at Caddo Lake and other lakes in the region is designed to provide an introduction to both invasive species and look alike native species of northeast Texas and northwest Louisiana through illustrations and short descriptions. The guide is available for a contribution of $50 which can be made online or mailed to CLI.
MORE INFORMATION
Additional information on Caddo Lake and its watershed can be found on CLI's data website – www.caddolakedata.us.
HOW CAN YOU HELP NATURE LOCALLY?  Dont's: DO NOT SPREAD INVASIVE SPECIES: CLEAN-DRAIN-DRY YOUR BOAT! Look for invasive stowaways in your prop, anchor, dock lines, trailer, hull, rollers, bunks, axle, live wells, bilge, motor, prop.  Empty, drain any debris at...
read more