WATERSHED PROTECTION PLAN
WATERSHED PROTECTION PLAN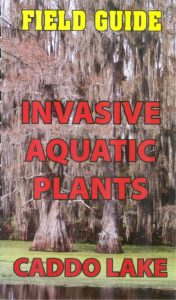 In 2006, CLI helped develop the initial response to the discovery of giant salvinia on Caddo Lake with the Shoreline Watch, a public education program which was part of the development of a WPP.   Northeast Texas Municipal Water District coordinated the work of the stakeholders in the Caddo Lake watershed for the development of the WPP.  Work included training residents and others to identify and remove giant salvinia and publication of a guide to invasive species.
MORE INFORMATION
Additional information on Caddo Lake and its watershed can be found on CLI's data website – www.caddolakedata.us.
HOW CAN YOU HELP NATURE LOCALLY?  Dont's: DO NOT SPREAD INVASIVE SPECIES: CLEAN-DRAIN-DRY YOUR BOAT! Look for invasive stowaways in your prop, anchor, dock lines, trailer, hull, rollers, bunks, axle, live wells, bilge, motor, prop.  Empty, drain any debris at...
read more